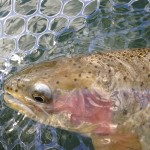 The weather and the fishing has been hot here in Southwest Montana. The Yellowstone cleared and dropped to 3500 cfs because of the cold weather over the last weekend. We then saw temperatures hit the mid 70's early in the week. That did two things: it gave us a few days of great caddis fishing, and it blew the river out. As I write this report the Yellowstone is muddy and flowing at 7500 cfs. Is the Yellowstone out for the duration until it drops in late June/early July? Maybe. It depends on what the weather does. If we have another cold snap like last weekend, it could come back into shape for a short time. But I wouldn't count on it.
We did have a couple of days of solid caddis fishing. The Sandahl brothers came out from Minnesota and enjoyed a couple days on the Yellowstone and a day on Story's upper lake. The river fished very well with short leash rigs and then the dry fly as the hatch intensified. The Mothers Day caddis hatch was a short one, but it was sweet. The temperatures getting so warm so fast was too much of a good thing. With average temps the hatch could have lasted a week before the river blew. Oh well, it was fun while it lasted. Story's fished well, the fish looked very healthy and fought hard as always.
With the Yellowstone potentially out of the picture for a while, its time to focus on the Stillwater, Boulder, Madison, and Missouri Rivers. There are good hatches of March Browns and caddis, and even some lingering Beatis on these waters on the right days. We also have solid options with the Paradise Valley Spring Creeks and the local private lakes. It has been a great start to the season. Be in touch.