Our WESTWIND GUIDES
Why a guided trip with Westwind Guides? Experience matters and you will not find a better group of guides with as much guided river time and experience as Westwind Guides. When you book a trip with us you can be rest assured that you will be with a very experienced or veteran guide. Also, guided anglers generally catch more and larger fish than non-guided anglers. For those who desire to learn as much as possible about tackle, gear, casting techniques, flies, how to read the water, fish behavior and hatches – we definitely recommend hiring a Westwind Guide. All of Westwind Guides pride themselves in their confidence and abilities, but are mostly excited about sharing our slice of heaven we call home. Our slice of heaven in Livingston and southwest Montana offers nearly a dozen world-class trout fisheries within a day trip.
Zach Pleshar
Zach was raised right here in Livingston, Montana. He spent his childhood running around the mountains and rivers of Paradise Valley. He's got a play hard / work hard ethic, which is obvious to all the anglers who request him. Zach Pleshar thrives in all aspects of guiding from teaching the finer points of fishing techniques to the simplicity of just enjoying a great day on the water. He's been guiding for over a decade on his home waters as well as spending four seasons in Western Alaska and it's no wonder he's one of the most requested guides in the area. After the fishing and hunting seasons are over you'll still find him either fly fishing, guiding elk hunting, or telemark skiing the back country – guess not much has changed since he was a kid…
Eric Adams
Eric Adams grew up in the Mid-West chasing trout throughout Michigan and Wisconsin. His obsession for all things fishing began a journey that has led him to numerous states and countries pursuing dozens of species of fish on the fly. This passion led him to study and receive an undergraduate degree in Environmental Biology and a Master's degree in Ecology. This background allows him to convey a unique perspective while guiding ensuring a day on the water is an educational experience in terms of fishing, the surrounding ecological landscape, and most important techniques that put a bend in the rod. This life long journey eventually led Eric to the Mecca of trout fishing in Livingston, Montana.
Tony Valeriano
"V" has been fishing since he was a small boy and has enjoyed puttin' the hurt on trout in Montana since the mid-80's. He has been guiding anglers since 1990 and is certainly one of the most knowledgable guides in the area. Tony Valeriano has an easy going, but knowledgeble style of guiding which is compimented by his infectiuos humor. Anglers in his boat will always come away from a day of fishing with better skills and great memories. When he's not spending time with his wonderful wife and children he can be found fishing bow hunting or skiing the fabulous powder of the Rocky Mountains.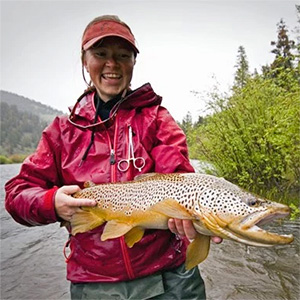 Marya Spoja
Marya Spoja is a native Montanan who grew up on her family's ranch in Lewistown, Montana, just a short two hour drive from Livingston, Montana. Marya grew up trying to catch minnows with her hands and in general running around causing trouble on and around the family property. It wasn't until graduating from Montana State University and moving to Livingston that she discovered the joys and frustrations of fly-fishing. A passion, to which many can attest, has now fully taken over her life. Marya worked and managed Sweetwater Fly Shop for 8 years helping anglers explore the vast regions of Paradise Valley, Yellowstone National Park and the surrounding rivers we at Montana Fly Fishing Guides call home. Marya Spoja is an exceptionally personable guide, has great insights from a woman's perspective on developing the skills of all anglers and abilities. You'll find her affable demeanor, off beat humor and love of fly fishing evident on every guided trip with her.
Aaron Hansen
Aaron Hansen grew up in Utah possessed by water and fishing. He began his Montana guiding career in 1994 following a few years playing football for the University of Utah. Aaron learned his guiding ropes early on guiding out of West Yellowstone, Montana. He's done a few other odd things like guide in Mongolia, spend one winter working as a manager of a flyfishing lodge in Belize, and getting a teaching certificate from Montana State University. Through the seasons, Aaron has realized the importance of how great guides have a good sense of not only how to get the fish but how to provide great guide trips. He is a patient and diligent guide that can find fish while instructing in an easy way in all conditions with all anglers. In addition to guiding, Aaron is the father to his daughter and the husband to his wife, and the high school biology teacher in Big Timber, Montana.
Todd Scott
Todd grew up fishing the lakes and rivers of West Virginia, Pennsylvania and Michigan – catching whatever he could find in the water. He has lived in and guided here in Montana for 24 years now – along with guiding four seasons in the Bristol Bay region of Alaska. Todd has a very diverse past of hiking, canoeing, kayaking and biking around the world – mostly for adventure but sometimes it included fishing. His longtime passion for guiding fly fishing trips has made him one of the premiere guides in the area. He Montana State University graduate and is known for his patience, knowledge, experience and enthusiasm. If you spend a day on the river with Todd, you can be rest assured that he will do everything in his power to make sure that you have a fun, memorable and successful experience. Todd likes to spend as much time as he can enjoying the outdoors – fishing, hunting, or skiing.