Women's Fly Fishing
WESTWIND GALS women's fly fishing
Hey Ladies, let's go fishing!

Marya Spoja heads up Westwind Gal's women's fly fishing, which is a fly fishing guiding and instructional service for women. Many women are discovering the joy of fly fishing these days. Are you included in this growing demographic? If you're a fisher-woman that wants to be guided by an experienced female guide or would like to learn the specifics of fly fishing from the female perspective, then Westwind Gals is for you. Whether you are new to fly fishing or you're on a quest to experience Montana's famous trout waters, we cater to all levels of experience and you'll enjoy your time spent with Westwind Gals.
We believe that fly fishing can be experienced on many different levels – the beauty of the cast, the thrill of catching fish, the peace of the natural surroundings and the adventure, fun and challenge of the sport. Recharge your soul while floating or wading one of the many rivers or lakes we fish. Westwind Gals is centered in Livingston, Montana – in the heart of some of the world's best fishing waters. Please feel free to check out our Home Waters page too view some of the legendary and exclusive private waters we fish.
Marya's experience, passion and love for fly fishing has made her one of the most recognizable of all the local guides and instructors in the area – especially with women's fly fishing. Westwind Gals is dedicated to helping women learn the sport of fly fishing in a unique, supportive and relaxed environment.
Contact us to reserve your days.
Marya Spoja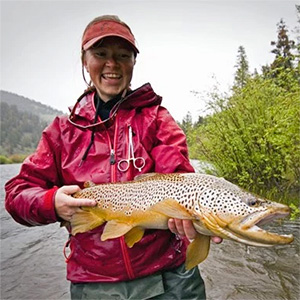 Marya Spoja is a native Montanan who grew up on her family's ranch in Lewistown, Montana, just a short two hour drive from Livingston, Montana. Marya grew up trying to catch minnows with her hands and in general running around causing trouble on and around the family property. It wasn't until graduating from Montana State University and moving to Livingston that she discovered the joys and frustrations of fly-fishing. A passion, to which many can attest, has now fully taken over her life. Marya worked and managed Sweetwater Fly Shop for 8 years helping anglers explore the vast regions of Paradise Valley, Yellowstone National Park and the surrounding rivers we at Montana Fly Fishing Guides call home. Marya Spoja is an exceptionally personable guide, has great insights from a woman's perspective on developing the skills of all anglers and abilities. You'll find her affable demeanor, off beat humor and love of fly fishing evident on every guided trip with her.